Long favored by cruising riders because of their ruggedness and protection, National Cycle Heavy Duty™ Windshields are available in a variety of heights and styles to provide comfort and good looks.
National Cycle Heavy Duty windshields are not "universals". They use our model-specific mounting kits (sold separately) to ensure excellent fitment, ease of installation, and flexible height adjustment.
Heavy Duty™ Windshields Applications
Close
---
Our Heavy Duty™ Windshields and Mount Kits fit an incredibly wide range of Harley-Davidson® models as far back as 1957. The complete applications are too numerous to list here.
Use the SHOP main menu option to select your specific year and model to see the Heavy Duty Windshield applications and fitments for your bike.
Learn More

Product Benefits
Heavy Duty™ Windshields mount to our Heavy Duty Mount Kits. These are not quick release windshields, though once the Mount Kit (sold separately) is installed, removing the windshield takes just a few minutes. These traditional, classic-style windshield feature an adjustable center window around the headlight cutout.
Mount Kits are specific to your model bike, and allow you to mount any of six different Heavy Duty Windshields. Generally, if you have wide spacing between the fork tubes (like on an FXDWG), a Heavy Duty Wide Frame windshield will look best. Heavy Duty Narrow Frame Windshields look best on bikes with narrow spacing between fork tubes (like an XL).

Wide Frame Heavy Duty™ Windshields
Touring Heavy Duty™
A perennial best seller, it offers plenty of height and width for larger riders. It's perfect for long-range touring.
Chopped Heavy Duty™
Provides excellent protection for the chest and shoulders, and enables most riders to look over the screen. Works great on bikes with low seat heights.
Beaded Heavy Duty™
This is an authentic three-piece beaded construction and is the best there is. This timeless classic is available with a clear top and your choice of a clear or black lower section and window.
Narrow Frame Heavy Duty™ Windshields
Custom Heavy Duty™
This is one of our most popular windshields and offers plenty of height with a slim profile for riders who want to tour longer distances.
Low Boy Heavy Duty™
This is the cut down version of the Custom. It's the perfect choice for riders sitting low in the saddle or for the rider that likes a low screen.
Ranger Heavy Duty™
The minimalist Ranger cuts the slim profile to its limits for the rider who wants just a small shield. The Ranger looks great on performance-oriented bikes.

Quality Features
The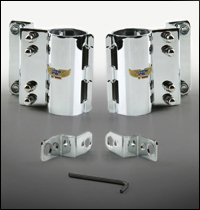 Touring, Chopped, Custom, Low Boy and Ranger Heavy Duty™ are made from 4.0mm thick Lexan® polycarbonate with National Cycle's exclusive Quantum&treg; Hardcoating for the toughest, most scratch resistant windshield you can get... anywhere!
These Heavy Duty WIndshields feature polished, chromed steel outer hardware and glare-free black epoxy painted inner hardware.
Our Beaded Heavy Duty is made from 4.0mm thick Lexan® polycarbonate with FMR hardcoating. The traditional beaded edge is applied without glue. Outer hardware is polished, chromed steel and inner hardware is high polished zinc.
All Heavy Duty WIndshields are precision cut and drilled and have computer routed, smooth radiused edges.
Our quality is the best in the industry!

Hardware/Materials


Constructed of 4.0mm Quantum® hardcoated Lexan® polycarbonate for unbeatable impact and crack resistance, as well as excellent abrasion resistance (Beaded Heavy Duty is FMR hardcoated).


All National Cycle polycarbonate windshields are covered by our 3-Year Warranty against breakage!