Wash'n'Wipe™ Kits for SxS UTV Windshields
National Cycle Wash'n'Wipe™ Kits for UTVs include a quality washer/wiper assembly, fluid reservoir, on/off switches, and complete wiring harness.
No matter what terrain or weather you encounter, our Wash'n'Wipe™ Kits will keep you rolling -- mile after mile, year after year -- with a clear view of the trail ahead.
Wash'n'Wipe™ Kits for SxS UTV Windshields Applications
Close
Wash'n'Wipe™ Kits come complete with high quality Washer/Wiper Motor, Fluid Reservoir, On/Off Switches and Wiring Harness, and detailed instructions for simple installation.
* Match the Wash'n'Wipe™ Kit part number with the part number of your National Cycle Windshield. For example, Windshield N30403 uses the N30403-WK Wash'n'Wipe™ Kit.
Learn More

Product Benefits
Optional Wash'n'Wipe™ Kits

Your SxS UTV can take you anywhere, any time, but your view of the road or trail ahead shouldn't be obscured by rain, mud, or debris.
Now you can get a perfectly clear view!
Purchase a National Cycle Wash'n'Wipe™ Kit (sold separately) along with your windshield, or you can add the Kit at a later time. Kits come with complete installation instructions.

Quality Features
Wiper Arm and Motor
A full-size wiper arm is powered by an auto-off Doga™ motor, has a molded protective cover, and is operated by a conveniently accessible toggle switch.
Washer Reservoir/Model-Specific Mount Kit
The Washer Fluid Reservoir and pump secure to the inside of the vehicle. The pump switch mounts in the cab interior and has a weatherproof rating of IP-64 (dustproof and water-resistant).
Complete Wiring Harness
Wiring Harness incluses all leads to power your Wiper Motor, Washer Reservoir Pump and cabin On/Off Switches.


Hardware/Materials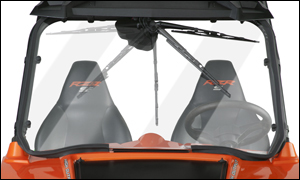 Quality Installation Hardware
Everything you need is included to complete the Wash'n'Wipe™ Kit installation in about an hour.