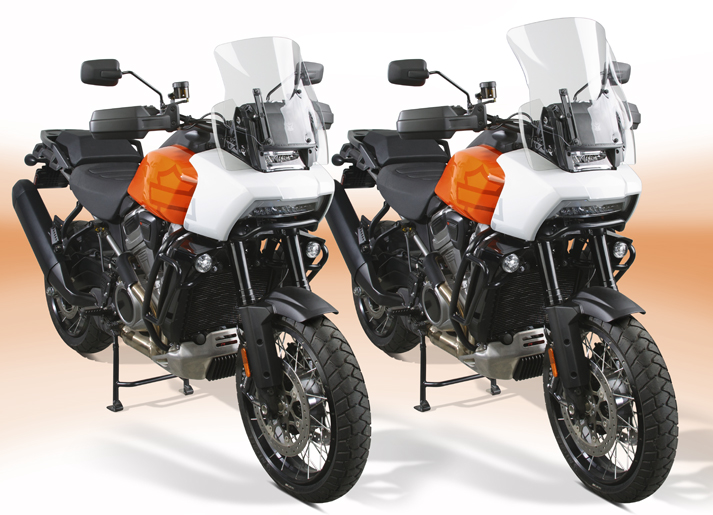 FOR IMMEDIATE RELEASE
Maywood, IL -- The Pan America took the adventure motorcycle world by storm, exceeding all expectations. National Cycle knows a bit about exceeding expectations. It's what they do. And what they've done for the Pan America deserves special notice.
These new three-piece VStream Windscreens are available in two sizes in 2.0mm Quantum® hardcoated polycarbonate, and both include replacement Deflectors in 1.5mm Quantum® hardcoated polycarbonate that are taller and wider than the OEM components. The Windscreens are offered with either a plain edge or an E43R EU-compliant beaded edge.
These precision thin-gauge Quantum hardcoated components, made with a revolutionary production process, provides outstanding clarity and resolution, greater impact strength and scratch resistance, and a 33% savings in weight.
VStream gets its name from its unique patented shape. The advanced "V" profile and dimensional contours push the wind vortex out and away from the rider's helmet, resulting in a peaceful, quieter riding environment. The larger size, with the inclusion of the larger side deflectors, gives the rider a significant improvement in wind management.
Quantum hardcoated polycarbonate is the material of choice for serious motorcycle riders. It is 10X more abrasion resistant than FMR hardcoated polycarbonate, and 30X more than windscreens made from commonly used acrylic or "aircraft plastic".
VStream Windscreens are easy to install and are protected by a 3-Year Warranty against breakage!
N20412 VStream Low Windscreen; Beaded Edge; Clear; H: 13.75"; Retail: $169.95
N20413 VStream Mid Windscreen; Beaded Edge; Clear; H: 16.38"; Retail: $189.95
N20414 VStream Low Windscreen; Plain Edge; Clear; H: 13.75"; Retail: $169.95
N20415 VStream Mid Windscreen; Plain Edge; Clear; H: 16.38"; Retail: $189.95
National Cycle products are made in the U.S.A.
Download high resolution photography of National Cycle's VStream® Windscreens/Deflectors for the Harley-Davidson® Pan America.
Press/Media Contact
National Cycle Inc.
877-WSCREEN (877-972-7336)
www.nationalcycle.com
###