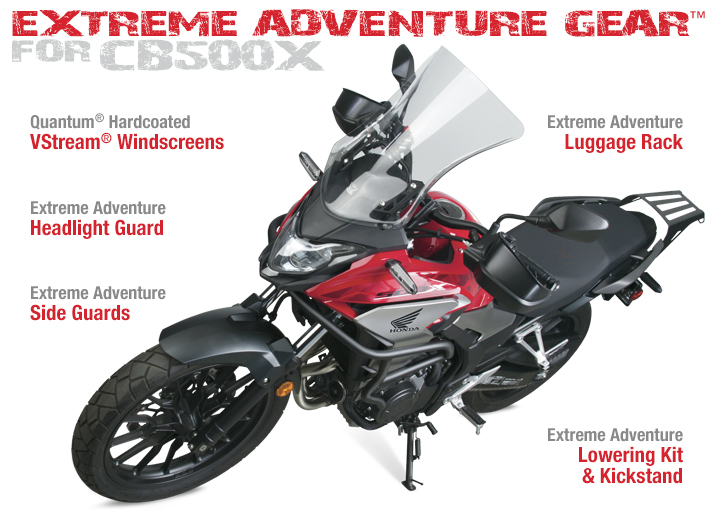 Maywood, IL – National Cycle's new line of Extreme Adventure Gear provides the best in rugged, superbly designed accessories for adventure bike owners, whether riding far off the beaten path or simply commuting on the tarmac. And now National Cycle offers a complete Extreme Adventure Gear accessories package for the 2019-Current Honda® CB500X.
The N5400 Headlight Guard perfectly matches the contours of the CB500X headlight. This guard is thermoformed from tough 3.0mm Quantum® hardcoated polycarbonate to fit the headlight exactly and is attached to the headlight using marine-grade Velcro®.

Protect your expensive headlight with a guard that's tougher than what the mean old world throws at it. The choice is clear!
The P4200 Adventure Side Guards for the CB500X are made from durable powdercoated and e-coated steel and can stand up to the most extreme abuse.

Designed for off-road protection, they also offer options for mounting supplemental lighting, adventure luggage, or your favorite deer whistle. Plus, they look really great!
The P4900 Lowering Kit and Kickstand for the CB500X is the perfect setup for riders born without really long legs, and for those wanting lower-to-the-ground stability when riding off-road.

The redesigned Suspension Link Arms lower the seat height about 1.50 inches. And to keep your newly lowered bike from getting tipsy when parked, a shorter replacement kickstand is included.
The P9304 Luggage Rack for the CB500X is easy to install and offers a sturdy platform for a large duffel bag or tail bag. Four tie-down points are included to secure your gear. It's made from powdercoated steel to withstand the most rugged conditions.

Now when riding off-road or far from home, you'll have a way to carry extreme emergency gear – first aid, tools, rain suit, bacon, etc.
Top it all off with the a National Cycle VStream® Windscreen. Made from Quantum® hardcoated polycarbonate, it comes in three sizes and tints to offer the perfect windscreen for every CB500X rider!
N5400 Extreme Adventure Gear Headlight Guard; Retail: $79.95
P4200 Extreme Adventure Gear Side Guards; Retail: $359.95
P4900 Extreme Adventure Gear Lowering Kit/Kickstand; Retail: $99.95
P9304 Extreme Adventure Gear Luggage Rack; Retail: $169.95
National Cycle products are made in the U.S.A.
Download high resolution photography of the Extreme Adventure Gear accessories for the Honda CB500X.
Download the Extreme Adventure Gear accessories brochure for the Honda CB500X.
Press/Media Contact
National Cycle Inc.
877-WSCREEN (877-972-7336)
www.nationalcycle.com
###