PCQ Technologies Manufacturing Overview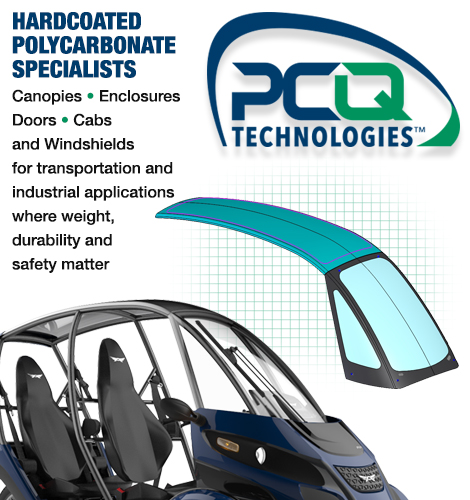 PCQ Technologies™ is a division of National Cycle Inc. with expertise in producing large windshields, canopies, doors, and other enclosures for the world's electric transportation, utility and industrial vehicle market.
Polycarbonate and National Cycle's exclusive Quantum® hardcoat, combined with leading-edge technology and large-scale manufacturing, deliver optically perfect, highly scratch-resistant, lightweight, formed polycarbonate components that are USA DOT and ECE 43R approved for automotive use.
PCQ Technologies – by National Cycle – The Worldwide Leader in Windshield Technology™.

PCQ Technologies' extensive polycarbonate manufacturing capabilities and their exclusive Quantum hardcoating are reasons why the company is optimistic about the future. Barry Willey, President and CEO states that "Polycarbonate performs in a way that automotive glass cannot. Our products are a demonstration of our technology, and we see definite prospects for enabling and advancing the alternative transportation industry."
MANUFACTURING CAPABILITIES
Routers; 3-, 5- and 6-Axis
Polycarbonate Forming
Hardcoatings
Plastic Injection Moldings
Silkscreening
Mold Making
Equipment Engineering
Tooling
MANUFACTURING CERTIFICATIONS
ISO 9001-1996
DOT 202 AS2+
ECE 43R - 019577
OUR QUALITY POLICY
We are committed to meeting our internal and external customers' requirements and having a culture of continuous improvement with quality being the responsibility of every employee.
More Information
CONTACT PCQ TECHNOLOGIES
Doug Manternach, Vice President of Product
E-mail doug@pcqtech.com or call 1-708-273-6505
CONTACT PCQ TECHNOLOGIES
Jason Howard, Director of Sales: Europe/Asia
E-mail jason@pcqtech.com or call +44 1938 554992