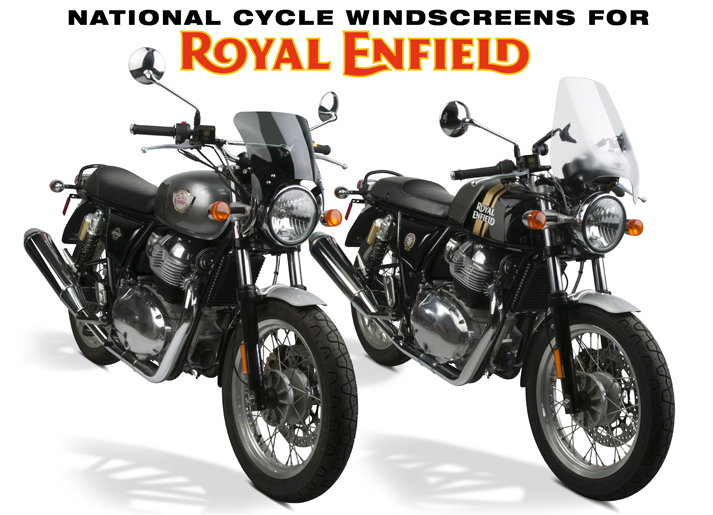 FOR IMMEDIATE RELEASE
Maywood, IL -- Now Royal Enfield® INT650 and Continental GT riders have a choice of premium quality windshields to add wind protection to their classic-styled machines.
Take an aggressive stance with our sporty Mohawk™ in Dark Tint, a minimalist windshield with old world styling and new world materials.
For practical wind protection, nothing beats the timeless Defector Screen™, available in Clear or Medium Tint with U-Clamp mounts or easy on-and-off QuickSet™ mounts. Our patented RakeAdjust™ and versatile mounting hardware lets riders personalize the performance to their needs.
Our world-famous Heavy Duty™ windshields need no introduction. The Mount Kit for the Royal Enfield 650 lets riders choose from three different height windshields, so there's a perfect size just for everyone.
All these windshields feature tough, impact-resistant polycarbonate construction with our exclusive Quantum® hardcoating for the world's best scratch resistance. Plus, they are all backed by National Cycle's 3-Year Unbreakable Warranty!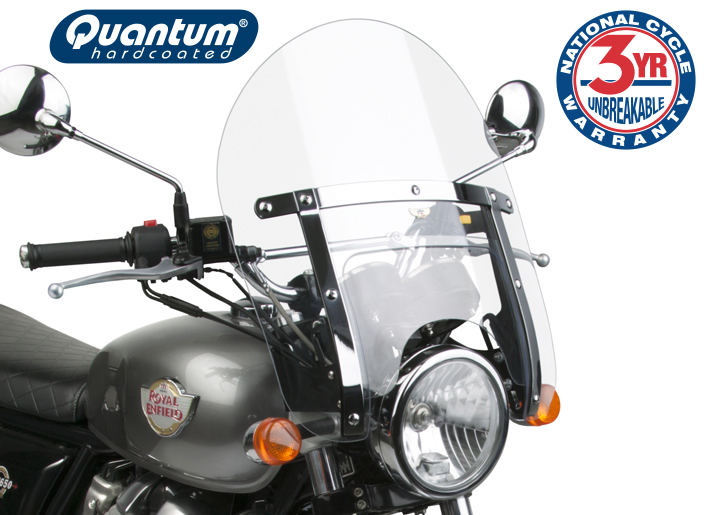 Check out all of our windshield options for the new Royal Enfield® INT650 and Continental GT.
MOHAWK™
N2837-001 Mohawk™; Dark Tint; Chrome Mounts
N2837-002 Mohawk™; Dark Tint; Black Mounts
DEFLECTOR SCREEN™
N25030 Deflector Screen™; Clear; U-Clamp
N25031 Deflector Screen™; Medium Tint; U-Clamp
N25040 Deflector Screen™; Clear; QuickSet™
N25041 Deflector Screen™; Medium Tint; QuickSet™
HEAVY DUTY™
N2220 Custom Heavy Duty™
N2221 Low Boy Heavy Duty™
N2290 Ranger Heavy Duty™
KIT-CRE Heavy Duty™ Mount Kit
National Cycle products are made in the U.S.A.
Download high resolution photography of National Cycle Windshields for the Royal Enfield® Continental GT and INT650.
Press/Media Contact
National Cycle Inc.
877-WSCREEN (877-972-7336)
www.nationalcycle.com
###