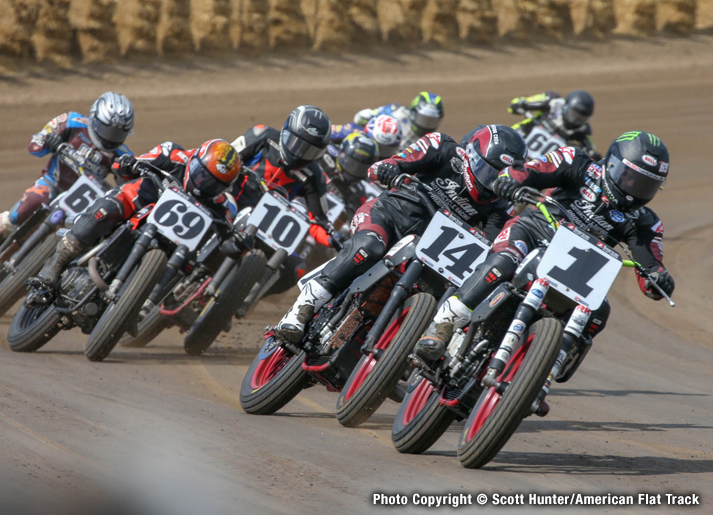 AMA Pro Racing Press Release (excerpts):
SPRINGFIELD, Ill. (September 2, 2019) – Monday's Springfield Mile II at the Illinois State Fairgrounds proved worth the wait, delivering what may be considered the most jaw-dropping AFT Twins presented by Vance & Hines Main Event of the 2019 American Flat Track season.
Following an epic 25 miles that saw ten riders in contention for the victory even as they dove into the race's final corner, multi-time defending AFT Twins Champion Jared Mees (No. 1 Indian Motorcycle/Progressive Insurance FTR750) worked his magic yet again to win out in the last-lap dash to the checkered flag.
Making the achievement all the more impressive, Mees did so after starting in last position from Row 4.
The champ turned in his one provisional start card of the season to advance to the Main after encountering bike issues in his Semi. However, he managed to slipstream his way forward over the race's opening third, joining the mammoth front group by lap 10. He was dueling for the lead a lap later -- a duel that wouldn't end until the final stripe.
In the end, Mees outlasted title rival Briar Bauman (No. 14 Indian Motorcycle/Progressive Insurance FTR750) by a scant 0.083 seconds.
The triumph was the 14th Mile win of Mees' illustrious career, tying him with the legendary Jay Springsteen for sixth all-time on the big tracks. It also brought him within a single race of Bauman in the evolving 2019 AFT Twins championship race, as he's now just 25 points back (280-255) heading into the season's final three races.
Mees said, "It was good to come off the back row and put my name on the list with the guys who have done that. It's more emotional doing it this way on the back-up bike and working my way up. The Indian Motorcycle ran so phenomenal for me. My whole crew worked so hard; when that bike broke we were switching wheels, and shocks, and offsets to try to duplicate what we were running on the main bike. We got it done, and it feels amazing."
Bronson Bauman (No. 37 Indian Motorcycle/Progressive Insurance FTR750) came through in third to lock out the podium for the Indian Wrecking Crew for the first time in 2019.
While the day ultimately belonged to Mees and Indian, a huge number of riders played starring roles with the entire top ten finishing within 0.653 seconds of the win.
Rookie Brandon Price (No. 192 Roof Systems of Dallas TX/DPC Racing Indian FTR750) made a late-bid for the victory, and was one of five riders who slid into Turn 3 on lap 25, side-by-side, vying for the lead. He ended up an impressive fourth, fractionally ahead of Brandon Robinson (No. 44 Kennedy Racing/Armbruster Racing Indian FTR750).
Round 14 | Springfiled Mile II | Results
1 ... Jared Mees
2 ... Briar Bauman
3 ... Bronson Bauman
4 ... Brandon Price
5 ... Brandon Robinson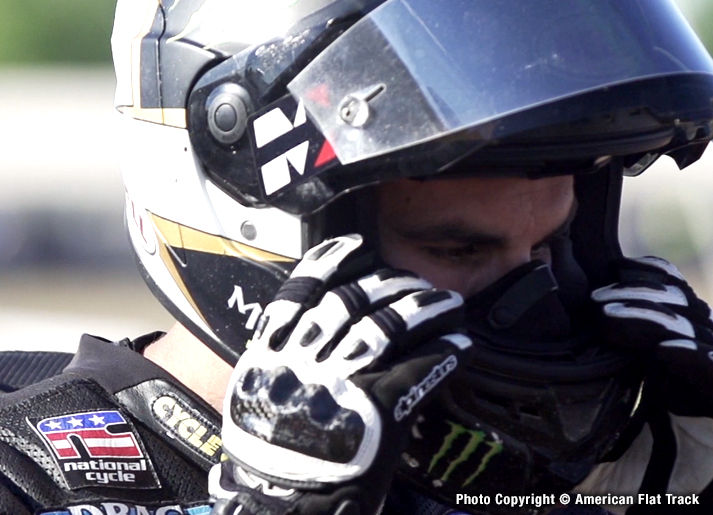 American Flat Track on Facebook • American Flat Track on Instagram
Jared Mees Racing on Facebook • Jared Mees Racing on Instagram