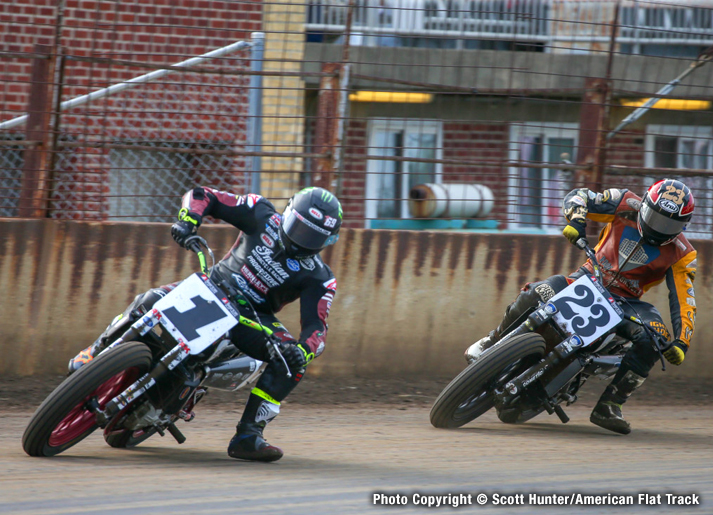 AMA Pro Racing Press Release (excerpts):
SPRINGFIELD, Ill. (August 31, 2019) – Defending AFT Twins presented by Vance & Hines Champion Jared Mees (No. 1 Indian Motorcycle/Progressive Insurance FTR750) made it three for three in Mile competition in 2019 American Flat Track competition with a last-corner victory in Saturday's Springfield Mile I.
Mees and 2018 Springfield Mile I winner Jeffrey Carver Jr. (No. 23 Roof-Systems of Dallas/Indian of Metro Milwaukee FTR750) transformed the race into a two-rider duel for the win from the start. The pair immediately broke free from the pack, and subsequently waged a 25-mile test of skill and tactics.
Carver seemed content to plant himself on the rear wheel of Mees over the opening half of the AFT Twins Main Event. However, the home-state hero brought the fans lining the grandstands to their feet by driving underneath the defending champ on lap 13.
Mees regrouped and reassumed his position at the front in short order. Carver made two more attempts to wrestle away the lead, and it appeared he finally succeeded for good when he powered by with three laps remaining. However, Mees ducked under Carver entering Turn 3 on the final lap, only to see Carver slide back up the inside as he worked through Turn 4.
Mees was ready for the move, and perfectly positioned himself for the decisive sprint to the flag; he stole the advantage back on exit and held it to the flag by 0.239 seconds.
After the race, Mees said, "I knew going out there if I got the holeshot, I wanted to press the pace right away and create some separation. I think Jeffrey knew exactly what I was doing because he was just pacing me. I looked back a couple times, and right there was the ''23'.
"He was basically just riding my tail and at one point I rolled out of it and let him go by. I wanted to know where he was stronger, and he had a really good line in 3 and 4. I saw that he tried it a couple times, and he did the exact same thing in the heat. On the last lap, when I felt him dive-bomb the bottom, I had a good counter for his move. I think he blew the corner a little bit coming off of it, and that allowed me to have a big gap out of Turn 4."
While Mees made up some ground in the title fight as a result of claiming his fifth win this year, it probably wasn't by quite as much as he may have anticipated when he took the checkered flag.
Championship leader Briar Bauman (No. 14 Indian Motorcycle/Progressive Insurance FTR750) was forced to use a provisional start to advance into the Main Event after suffering a mechanical issue in his Semi.
Despite starting from dead last, Bauman somehow carved his way into seventh by the conclusion of lap 1 and established himself as one of five riders embroiled in a race-long battle for the final spot on the podium. Indeed, Bauman ultimately won that battle, finishing in third 0.122 seconds ahead of brother/teammate Bronson Bauman (No. 37 Indian Motorcycle/Progressive Insurance FTR750).
Bauman now holds a 30-point advantage over Mees (260-230) with four races remaining.
Bryan Smith (No. 4 Crosley Brands/Howerton Motorsports Kawasaki Ninja 650) finished fifth another 0.016 seconds in arrears, with Stephen Vanderkuur (No. 21 AMSOIL/Hodder Racing Indian FTR750) and Brandon Robinson (No. 44 Kennedy Racing/Armbruster Racing Indian FTR750) fractionally behind in sixth and seventh, respectively.
Round 14 | Springfiled Mile I | Results
1 ... Jared Mees
2 ... Jeffrey Carver Jr.
3 ... Briar Bauman
4 ... Bronson Bauman
5 ... Bryan Smith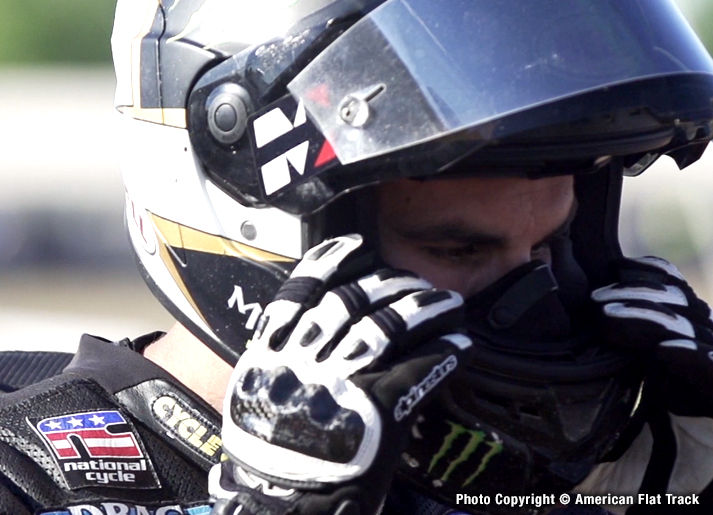 American Flat Track on Facebook • American Flat Track on Instagram
Jared Mees Racing on Facebook • Jared Mees Racing on Instagram