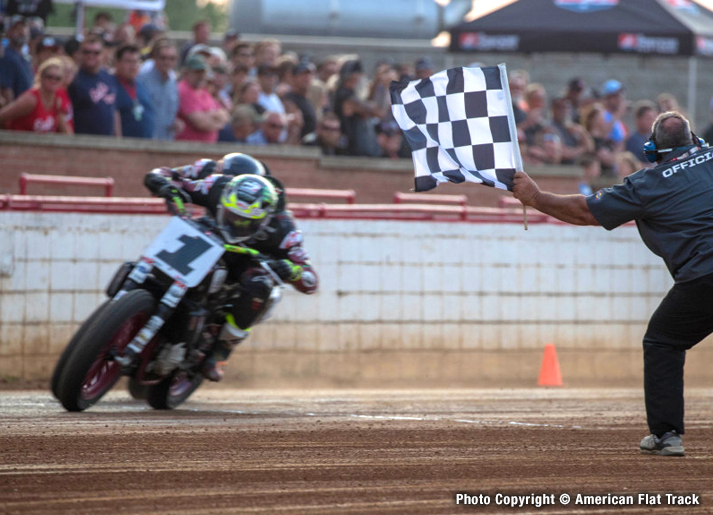 AMA Pro Racing Press Release (excerpts):
DAYTONA BEACH, Fla. (June 2, 2019) – It required two event postponements and an additional day's delay on top of that, but American Flat Track finally got in its first Mile of the 2019 season with Sunday's Indian Motorcycle of Lexington Red Mile in Lexington, Ky.
It was worth the wait.
Defending double AFT Twins presented by Vance & Hines Champion Jared Mees (No. 1 Indian Motorcycle/Progressive Insurance FTR750) remained the only rider to ever win an AFT Twins Main Event at the Red Mile after narrowly overcoming the relentless challenge of title leader Briar Bauman (No. 14 Indian Motorcycle/Progressive Insurance FTR750).
Mees threatened to turn this year's edition into a walkaway early in the Main, but Bauman dug deep and tracked the reigning champ down. He closed onto Mees' rear wheel with ten laps remaining in the once-stopped 25-lap Main, at which point the two promptly went to work.
Bauman leveraged his incredible confidence with the high line to drive around the outside of Mees on multiple occasions, but Mees was always quick to respond with an inside dive or superior drive of his own.
Bauman attempted to draft by at the checkered flag, but couldn't quite match Mees' launch, allowing the reigning series king to grab the checkered flag by a 0.056-second margin.
Mees has now won eight of the last 12 Miles dating back to 2017's Red Mile.
He said, "I started to get a little worried about tires. When we had that red flag, it looked like we were buzzing the tires down pretty good, so I wanted to slow the pace down a little bit and try to ease it off in the corners and keep it inline. I knew if I did that (Briar) was going to catch me. But the Indian Motorcycle has worked so good all day… it's been so good here the last three years."
While he couldn't defeat his rival on this day, Bauman did extend his perfect run of podium results in 2019. He said, "I can't even put this into words. We're leading the championship, but at the same time, I'm probably more excited than Jared is right now. This is actually my first Mile podium, and I was able to reel him in and make a race of it for the fans who stuck out the weather. I'm really excited."
AFT Twins' resident 'Mile Master,' Bryan Smith (No. 4 Crosley Brands/Howerton Motorsports Kawasaki Ninja 650), almost turned it into a three-way scrap on the final lap. Smith proved the time away spent working on his '19 package was time well invested as he finished third, just over a second off the victory.
Another 0.186 seconds back was the most impressive Stephen Vanderkuur (No. 21 AMSOIL/Hodder Racing Indian FTR750). Vanderkuur, who only had two prior premier class Main Event starts to his name and a best finish of 15th, tagged along with Smith and put himself in podium contention at the end. He ultimately finished fourth and proved himself capable of running with the best of the best.
Henry Wiles (No. 17 Bandit Industries/DPC Racing/Wilco Racing Indian FTR750) completed the top five.
Bauman continues to dominate the AFT Twins points standings at 122, but Mees now trails by only 19 points, while Brandon Robinson (No. 44 Kennedy Racing/Armbruster Racing Indian FTR750) retains the third position with a total of 95.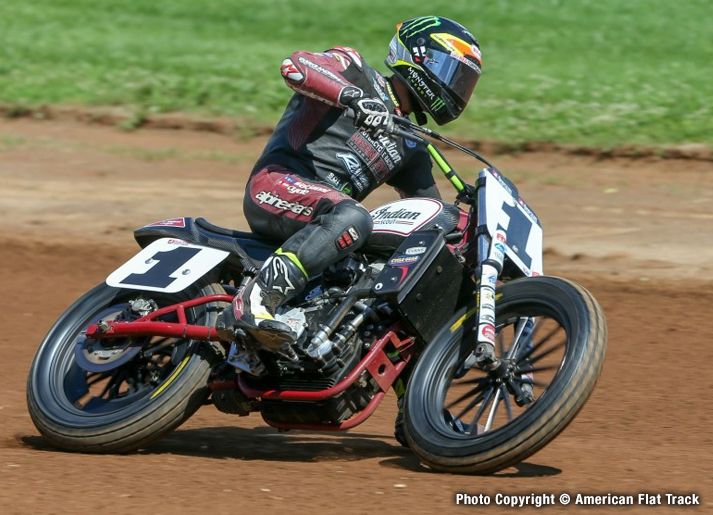 Round 8 | Lexington Red Mile | Results
1 ... Jared Mees
2 ... Briar Bauman
3 ... Bryan Smith
4 ... Stephen Vanderkuur
5 ... Henry Wiles

American Flat Track on Facebook • American Flat Track on Instagram
Jared Mees Racing on Facebook • Jared Mees Racing on Instagram