Peacemakers® Exhaust Systems
From: $105.95
To: $700.90
Imagine being able to start up your Harley-Davidson® for an early morning ride without angering your neighbors. Imagine enjoying a deep, powerful exhaust note without cringing whenever you pass a police officer or a school zone.
National Cycle's Peacemakers® Exhausts make those dreams a reality!
Our system enables you to get the sound you want, when you want it – while you ride!
Peacemakers® Exhaust Systems Applications
Close
PEACEMAKERS® EXHAUST SYSTEMS

Part No.

Years

Model

FXS/FLS MODELS

N41414

2007

FXSTD Softail Deuce

N41411

2000-06

FXSTD Softail Deuce (3.25")

N41414

2007-15

FLSTF/FLSTFB Fat Boy/Lo

N41411

2000-06

FLSTF Fat Boy (3.25")

N41413

2005-06

FLSTN Softail Deluxe (3.25")

FXD MODELS

N41421

1995-05

FXD Dyna Series ALL (3.25")

N41422

2006-09

FXD/FXDC/FXDB/FXDL/FXDWG Dyna Series ALL (3.25")

N41422

2010-15

FXD/FXDC/FXDB Dyna Series (3.25")

OPTIONAL EXHAUST TIPS

Part No.

Description

Replacement Application

N41902

SnubNose™ Tips

Fits N41402

N41903

SnubNose™ Tips

Fits N41403/N41414

N41905

Replacement Slash Cut Tips

Fits N41403/N41414
All Mufflers are 4.00-inch diameter unless stated otherwise.
* 2010-12 FLHX/FLTR requires purchase of H-D Part Number 65600063; Touring 2-into-2 Head Pipe Kit.
Learn More

Product Benefits

Featuring National Cycle's patented Diverter Valve technology, Peacemakers® Exhausts enable the rider to switch back and forth between a "loud mode" and a "quiet mode" – on the fly!
Be wild and unleash the low throaty rumble locked inside your v-twin, but then flip the switch to tone it down when needed!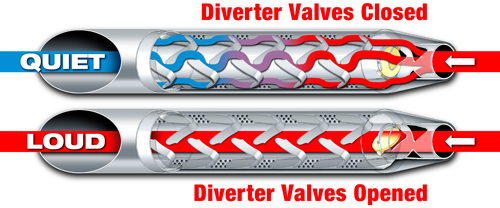 Quality Features

The handlebar-mounted Toggle Switch allows on-the-fly transitions between loud and quiet modes. Tone it down when you should, but let her rip when you can! A press of the thumb is all it takes.
The patented small chrome Actuator Motor, mounted to the right front frame tube, receives the signal from the handlebar switch and opens/shuts the Diverter Valves via heavy duty cables. (Patent# 7380638)
When the Diverter Valves are closed, the exhaust gases are routed through the outer baffles, reducing the exhaust sound volume to a lower level.
When the Diverter Valves are opened, the exhaust gases flow through the straight pipe down the center of the muffler, resulting in more sound volume and greater engine performance.

Hardware/Materials
Peacemakers® Exhausts are made in our factory from chromed steel and stainless steel. Slash Cut Exhaust Tips (standard) can be rotated down or out. Optional Snub Nose™ Exhaust Tips are available.
Uses existing stock mounting hardware and stock heat shields. Includes detailed instructions. Fits most late model FX, FL and XL motorcycles.