Extreme Adventure Gear™ Accessories
National Cycle's's new line of Extreme Adventure Gear™ provides the best in rugged, superbly designed accessories for adventure bike owners, whether riding far off the beaten path or just commuting and touring the tarmac.
Learn More

Product Benefits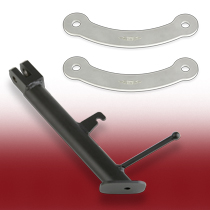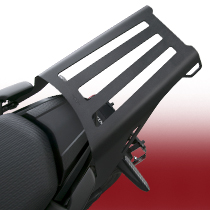 The XAG™ Luggage Rack for the CB500X is easy to install and offers a sturdy platform for a big duffel bag or tail bag. Four tie-down points are included to secure your gear. It's made from powdercoated steel to withstand the most rugged abuse.
The XAG™ Lowering Kit and Kickstand for the CB500X is the perfect setup for riders born without really long legs, and for those wanting lower-to-the-ground stability when riding off-road. The redesigned Suspension Link Arms lower the seat height about 1.50 inches. And to keep your newly lowered bike from getting tipsy when parked, a shorter replacement kickstand is included.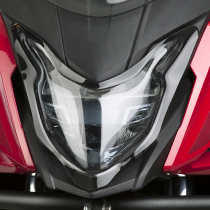 The XAG™ Headlight Guard perfectly matches the contours of the 2019-current CB500X headlight. This guard is thermoformed to fit the headlight exactly and is attached to the headlight using marine-grade Velcro®. Crystal clear optics will not distort or reduce the light beam. It virtually disappears when installed.

Quality Features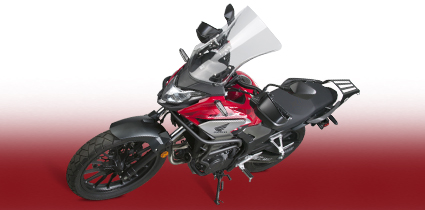 Integrated Accessories
All National Cycle Extreme Adventure Gear™ Accessories are designed and engineered directly on the bike for for a perfect fit and finish.
Complete your adventure bike setup with a VStream® Windscreen!

Hardware/Materials
MATERIALS
P9304 Luggage Rack
Electrophoretic Coated and Powdercoated Steel
P4900 Lowering Kit
Steel and Powdercoated Steel
N5400 Headlight Guard
Quantum® Hardcoated Polycarbonate
HARDWARE
All Mounting Hardware Included