Quick Release Back Rest/Luggage Racks
From: $419.95
To: $666.90
Critical engineering procedures and real world on-the-road testing are part of the continuous design process for all our products. Paladin® Backrests and Luggage Racks are no exception.
These are not "universal fit" generic products. They are custom-designed specifically for the Indian® Scout, so you can be sure they will not only look great, but fit and perform perfectly.
Quick Release Back Rest/Luggage Racks Applications
Close
---

---

---

---

INDIAN®

Mount Kit

Model

Years

Saddlebag Adapters

*

P9BR500

Scout

2015-21

BAG#884

P9BR500

Scout Sixty

2016-20

BAG#884

---

---

---

---

PADDED BACK REST

Part No.

Model

Years

P9800A

Scout

2015-21

P9800A

Scout Sixty

2016-20

LUGGAGE RACK

Part No.

Model

Years

P9900

Scout

2015-21

P9900

Scout Sixty

2016-20

---

---

---

---

SOLO RACK

Part No.

Model

Years

P9500-001

Scout

2015-21

P9500-001

Scout Sixty

2016-20

P9500-002

Scout

2015-21

P9500-002

Scout Sixty

2016-20
* Hardware Adapters Required to Mount Paladin® Mount Kits and Cruiseliner™ Mount Kits Together.
Learn More

Product Benefits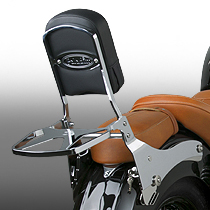 Paladin® Back Rests/Luggage Racks with QuickSet™ Mounts
Convert your Scout from a 2-up tourer to a solo cruiser in under 5 seconds, with no tools!
The Paladin® QuickSet™ Back Rest uses an innovative, key-lockable mounting system that's designed for an optimal fit on each specific make and model. All moving components are made from stainless steel for years of reliable, smooth operation, and all visible metal components are either polished stainless steel or bright, show-quality chrome.
After unlocking, just lift the levers on the bottom of the backrest side plates and pull up on the backrest to remove it. Now that's easy!
The Paladin P9900 Luggage Rack, P9800A Back Rest (sideplates with lock, sissy bar and pad), and QuickSet Mount Kits are sold separately.

Quality Features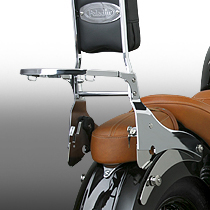 NEW for the Indian® Scout and Scout Sixty!
Scout riders can choose from two different options for extra carrying capacity. Two-up riders will appreciate the Paladin® QuickSet™ Backrest and Luggage Rack. It offers increased passenger comfort plus the ability to carry a duffel bag with a weekend's worth of gear and clothing.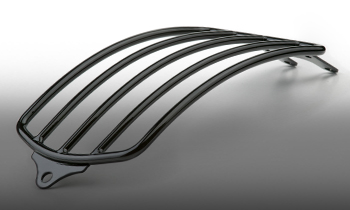 Lone riders may prefer our well-crafted Solo Rack. Simply remove the passenger pillion seat and mount the Solo Rack to the Scout's stock mount points.
The Solo Rack is available in brilliant chrome or black powdercoat.

Hardware/Materials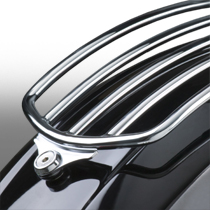 MATERIAL
Chromed or Powdercoated Steel with Stainless Steel locking mechanism.
HARDWARE
QuickSet™ mounting hardware and keys are included in mount kits.
Paladin® QuickSet™ Mount Kits are application-specific to ensure the correct fit for your bike. Click the SHOP menu for fitment information for your motorcycle.