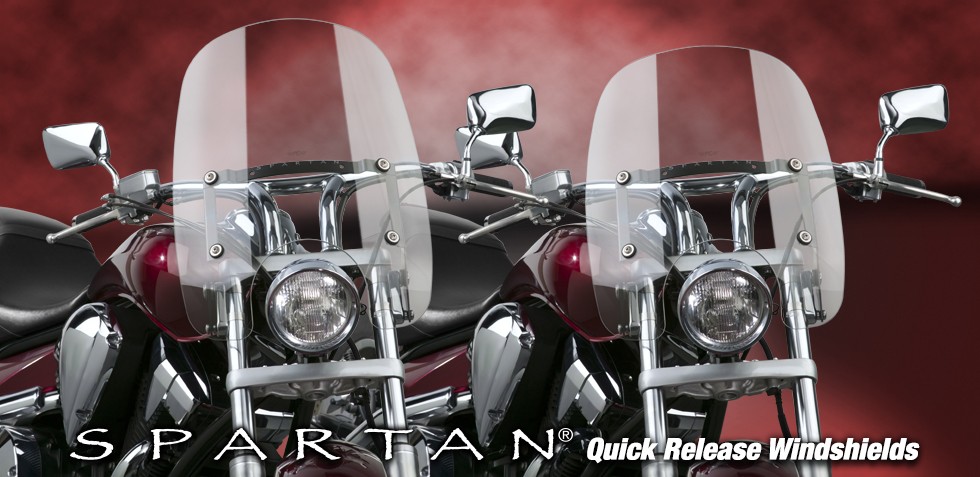 Spartan® Quick Release Windshields
From: $184.95
To: $409.90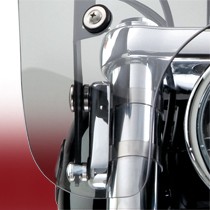 Take a ride on the dark side!
The Spartan® Windshield's stainless steel frame finished in stealth black powdercoat puts this full size windshield offering in a category of its own.
Spartan leads the way in high value/low cost, Quantum® hardcoated polycarbonate, quick release windshields for Metric cruiser riders!
Spartan® Quick Release Windshields Applications
Close
---

---

---

---

---

---

---

---

---

---

---

HONDA®

Model

Year

Mount

18.50"

16.25"

Chrome

Name

Range

Kit

Height

Height

Lowers

VT1300CR Stateline

2010-16

KIT-Q106

N21203

N21303

VT1300CS Sabre

2010-14

KIT-Q106

N21203

N21303

VT750C2 Shadow Spirit

2007-16

KIT-Q102

N21203

N21303

VT750DC Shadow Spirit/Black Widow

2001-07

KIT-Q102

N21203

N21303

---

---

---

---

---

---

---

---

---

---

---

SUZUKI®

Model

Year

Mount

18.50"

16.25"

Chrome

Name

Range

Kit

Height

Height

Lowers

M50/M800 Boulevard

2005-09

KIT-Q103

N21203

N21303

---

---

---

---

---

---

---

---

---

---

---

TRIUMPH®

Model

Year

Mount

18.50"

16.25"

Chrome

Name

Range

Kit

Height

Height

Lowers

1600/1700 Thunderbird

2010-16

KIT-Q131

N21203

N21303
Check your specific make/model in the SHOP main menu for Holdster™ and Windshield Storage Bag applications.
All Spartan® Windshields require a SwitchBlade Mount Kit, sold separately.

Windscreens are measured vertically from the top of the screen to the bottom center point. All widths are measured in a straight horizontal line across the back of the screen at its widest point.
Learn More

Product Benefits
Wind In Your Hair When You Want It... Wind Protection When You Need It!™
You won't find a better quality touring-sized windshield at such a great price! The Spartan® Windshield has a stainless steel frame finished in a stealthy black powdercoat and looks perfect on today's dark custom bikes.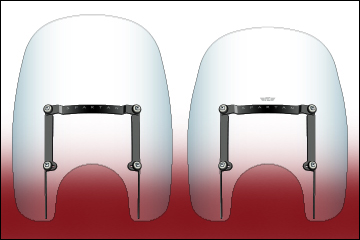 This full-size Quantum® hardcoated polycarbonate windshield comes in two heights – 18.50" and 16.25" – to fit almost any rider and offers excellent wind protection. The windshield mounts to our trusted Quick Release Mount Kit with stainless steel hardware and rubber grommet compression limiters that spread the load for long life and durability.

Quality Features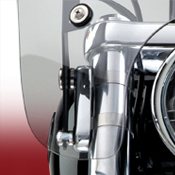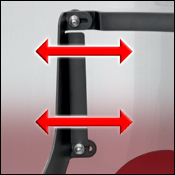 The Spartan® Windshield mounts to our Quick Release Mount Kit – the same hardware that mounts our well-known SwitchBlade® Windshields and our Wave QR® Fairings.
Simplified fitments are made possible by the Spartan's patented parallel slotted tabs that easily adjust for a perfect, customized fit with different fork widths.
On and Off in Less Than Five Seconds... Without Tools!
This fork-mount hardware system secures your windshield with bulldog tenacity but looks attractive and refined when the shield is off. Innovative stainless steel cushion wheel spools turn and flex, allowing the shield to lock into place with a reassuring "pop".

We design and engineer Quick Release Mount Kits directly on each model motorcycle to ensure perfect fit and function. Mount Kits are available for almost every model bike.
Quick Release Mount Kits are sold separately.

Hardware/Materials
High quality powdercoated steel and stainless steel will keep your Spartan® Windshield looking good season after season.
Our thick, sturdy polycarbonate windshields are three-dimensionally formed, precision drilled and cut, and feature smooth beveled edges.


Best of all, Spartan Windshields feature our exclusive Quantum® hardcoating for the ultimate in scratch resistance!


All National Cycle polycarbonate windshields are covered by our 3-Year Warranty against breakage!