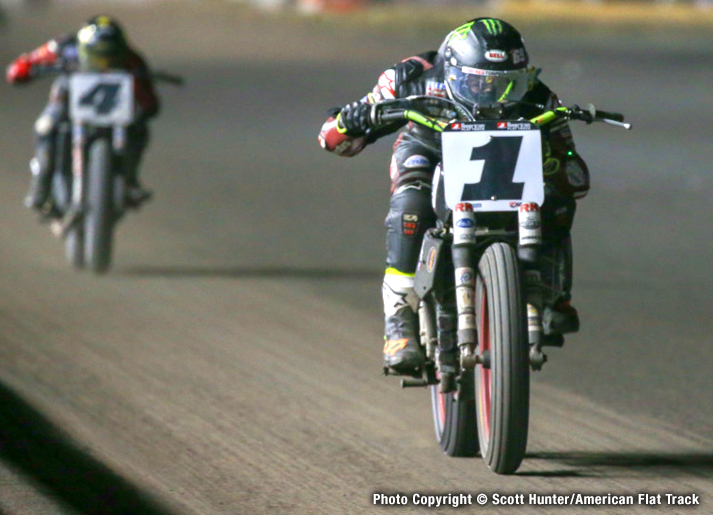 AMA Pro Racing Press Release (excerpts):
EAST RUTHERFORD, N.J. (September 28, 2019) – The 2019 American Flat Track season concluded at Saturday's Russ Brown Motorcycle Attorneys Meadowlands Mile in East Rutherford, New Jersey with the crowning of two new champions on the undercard and a statement of performance from the outgoing AFT Twins presented by Vance & Hines champion.
While Briar Bauman (No. 14 Indian Motorcycle/Progressive Insurance FTR750) already clinched the 2019 AFT Twins title, the man he dethroned still had bragging rights in his sights. Jared Mees (No. 1 Indian Motorcycle/Progressive Insurance FTR750) went wire-to-wire in the AFT Twins Main Event to complete a perfect sweep of the season's six Miles and end the year with a class-leading eight victories.
Mees was pushed throughout the shortened Main by long-time rival Bryan Smith (No. 4 Crosley Brands/Howerton Motorsports Kawasaki Ninja 650), who was desperate to extend his streak of scoring at least one Main Event victory per season dating all the way back to 2006.
But while Smith closed on Mees late, he ultimately ran out of laps, coming up 0.766 seconds short at the checkered flag.
After the race Mees said, "I want to give another big shout out to Indian Motorcycle. Those guys are a phenomenal group of people to work for and work with, and I enjoy every minute of it.
"It feels good to come in and win the last couple races and end the season strong, and also to go into the off-season with a little bit of homework to do."
The runner-up result was Smith's second in succession, finishing up an otherwise difficult year in strong fashion.
Behind the battle for the win, Bronson Bauman (No. 37 Indian Motorcycle/Progressive Insurance FTR750) fought his way past the works Harley-Davidson of Brandon Robinson (No. 44 Harley Davidson/Vance & Hines XG750R Rev X) to not only claim the final spot on the podium, but also put the finishing touches on a championship 1-2-3 for the Indian Wrecking Crew.
Henry Wiles (No. 17 Bandit Industries/DPC Racing/Wilco Racing Indian FTR750) edged Jeffrey Carver Jr. (No. 23 Roof-Systems of Dallas/Indian of Metro Milwaukee FTR750) by a scant 0.008 to round out the top five.
Round 20 | Meadowlands Mile | Results
1 ... Jared Mees
2 ... Bryan Smith
3 ... Bronson Bauman
4 ... Brandon Robinson
5 ... Henry Wiles
American Flat Track on Facebook • American Flat Track on Instagram
Jared Mees Racing on Facebook • Jared Mees Racing on Instagram