AMA Pro Racing Press Release (excerpts):
SACRAMENTO, Calif. (August 10, 2019) – Defending Champion Jared Mees (No. 1 Indian Motorcycle/Progressive Insurance FTR750) successfully rebounded from Tuesday's Black Hills Half-Mile crash by defeating title rival Briar Bauman (No. 14 Indian Motorcycle/Progressive Insurance FTR750) in Saturday's tense Law Tigers Sacramento Mile Presented by Cycle Gear powered by Estenson Racing.
Cal Expo served as the latest battleground in a series of captivating showdowns waged by American Flat Track's leading men. In the opening stages of the 25-lap AFT Twins presented by Vance & Hines Main Event, Mees appeared quite content to suppress the pace and jostle with the pack.
Bauman had other ideas, however, and forced Mees' hand by leaping out front and pulling the pin. Mees responded, and then some. He rolled back around his adversary and pushed Bauman to his limits with his sheer pace. The championship leader barely clung on, giving chase from right around a second back over the race's second half.
Bauman somehow managed to dig deep and summon up a final-lap charge. He lined up a last-gasp draft to the flag, but Mees' decisive launch out of Turn 4 proved too perfect to overcome, powering him to a 0.151-second margin of victory.
The race was yet another demonstration of the resilient determination of the two championship rivals. Over the last five rounds, Bauman has twice bounced back from 16th-place finishes to win the next time out, while Mees has done the same on the heels of 15th- and 14th-place results.
The latest of those bounce-back triumphs saw Mees up his career record to 44 premier-class wins. That moves him out of a tie with Jay Springsteen and into sole possession of third place on the all-time AFT Twins victory order.
Mees said, "I banged the holeshot and then was keeping the pace kind of mediocre just to get the tires warmed up slow and try to get some players up in there. It worked out good -- I finally just dropped the hammer and the bike was working so good. You don't really get perfect motorcycles even if you win a race. You win a race and usually you think the bike still could have been a little bit better. But this bike was really, really dialed-in. It was perfect tonight."
Third-place was an equally good story, as 2015 AFT Singles champ Davis Fisher (No. 67 Bob Lanphere Beaverton Motorcycles/Dick Wall 60 Indian FTR750) at last secured his maiden premier-class podium after racking up multiple fourth-place finishes in 2017 and 2018.
The achievement comes just days after Fisher selflessly crashed his machine in an intentional act to avoid hitting a fallen Mees during the main event at Black Hills Speedway.
A couple seconds back, Bronson Bauman (No. 37 Indian Motorcycle/Progressive Insurance FTR750) overcame seven-time Sacramento Mile winner Bryan Smith (No. 4 Crosley Brands/Howerton Motorsports Kawasaki Ninja 650) to claim fourth.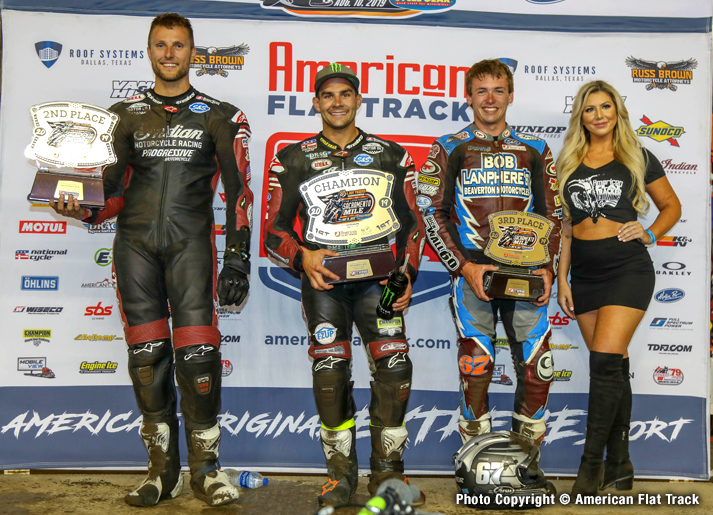 Round 14 | Sacramento Mile | Results
1 ... Jared Mees
2 ... Briar Bauman
3 ... Davis Fisher
4 ... Bronson Bauman
5 ... Bryan Smith

American Flat Track on Facebook • American Flat Track on Instagram
Jared Mees Racing on Facebook • Jared Mees Racing on Instagram