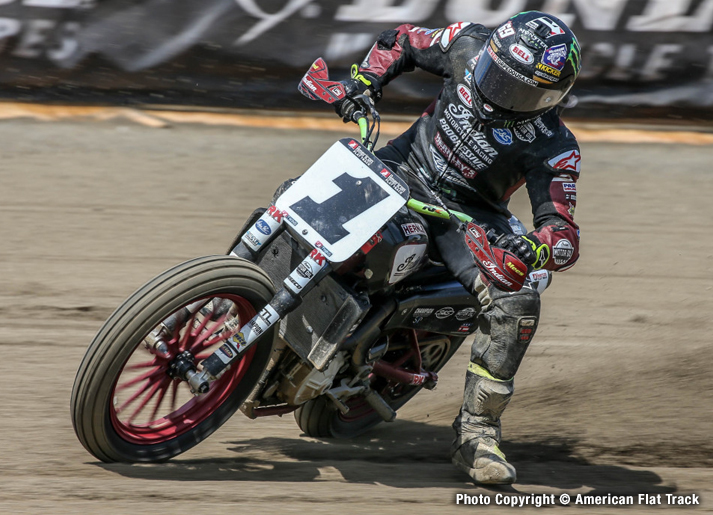 AMA Pro Racing Press Release (excerpts):
LIMA, Ohio (June 29, 2019) – No one won bigger in Saturday night's Indian Motorcycle Lima Half-Mile Presented By Johnny K's Indian powered by Drag Specialties than defending defending multi-time Champion Jared Mees (No. 1 Indian Motorcycle/Progressive Insurance FTR750) -- other than, perhaps, Lima Half-Mile race promoter Jared Mees.
The AFT Twins presented by Vance & Hines Main Event at the Allen County Fairgrounds in Lima, Ohio, was arguably the most thrilling of the 2019 American Flat Track season and one with massive championship implications -- both factors working decidedly in Mees' favor.
The opening several laps featured an intense head-to-head showdown that pit Mees up against championship leader Briar Bauman (No. 14 Indian Motorcycle/Progressive Insurance FTR750). That duel was cut short by a red flag on lap 7, which altered the complexion of the Main dramatically.
Mees got a stellar jump at the restart, while Bauman was sucked into a battle for second with Jeffrey Carver Jr. (No. 23 Roof-Systems of Dallas/Indian of Metro Milwaukee FTR750), Henry Wiles (No. 17 Bandit Industries/DPC Racing/Wilco Racing Indian FTR750), and rookie Brandon Price (No 192 Roof Systems of Dallas TX/DPC Racing Indian FTR750).
Bauman's luck only got worse from there, as his rear tire came clean off the rim on lap 10. That unusual mishap put an end to his perfect season's podium streak while instantly eliminating the bulk of his hard-earned championship padding.
Following Bauman's exit, Carver ate up the gap to Mees, and the two then engaged in their own wild shootout for the lead. Running divergent lines, Mees and Carver proceeded to trade the position back and forth multiple times per corner for several laps in succession. That titanic battle allowed Wiles to close in over the final several laps, setting up a three-way struggle on the final lap.
Carver attempted to square up the final turn but Mees powered neatly around the outside line, beating his opponent to the checkered flag by 0.199 seconds. Wiles came home third another 0.668 seconds in arrears.
Combined with Briar Bauman's DNF and Brandon Robinson (No. 44 Kennedy Racing/Armbruster Racing Indian FTR750) failing to make the Main one event after cashing in his only provisional start of the season, Mees' triumph elevated him to second in the standings, a mere 13 points back of Bauman (145-132).
After the epic race, Mees said, "When you're battling up in the cushion like that, it wears you out twice as fast. You're wrestling the bike, and the bike's jumping around. Hats off to Jeffrey; I work out so hard, and I didn't have nothing left -- I was done. I just want to give a big shout out to Jeffrey [Carver, Jr.] and Henry [Wiles] for a hellacious, awesome race."
While Price faded late after looking in contention for the podium at mid-distance, he still went on to score what's easily his best premier-class result to date by finishing an impressive fourth.
Laconia ST winner Bronson Bauman (No. 37 Indian Motorcycle/Progressive Insurance FTR750) put together another solid outing to round out the top five.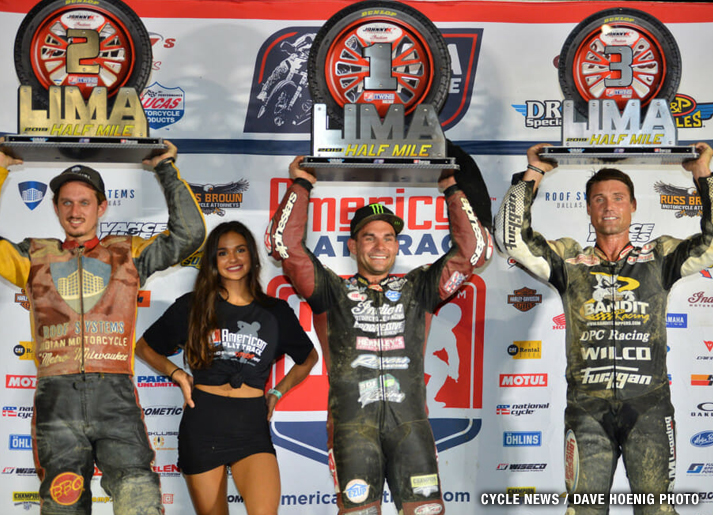 Round 10 | Lima Half-Mile | Results
1 ... Jared Mees
2 ... Jeffrey Carver Jr.
3 ... Henry Wiles
4 ... Brandon Price
5 ... Bronson Bauman

American Flat Track on Facebook • American Flat Track on Instagram
Jared Mees Racing on Facebook • Jared Mees Racing on Instagram