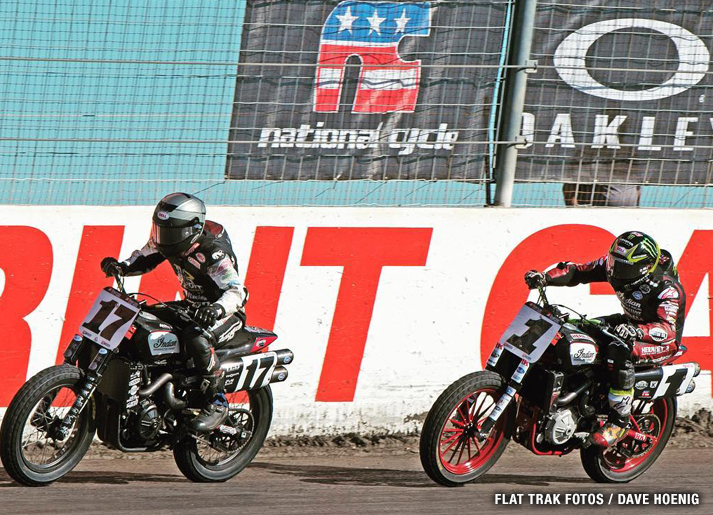 AMA Pro Racing Press Release (excerpts):
FORT WORTH, Texas (April 20, 2019) – Reigning AFT Twins presented by Vance & HinesChampion Jared Mees (No. 1 Indian Motorcycle/Progressive Insurance FTR750) delivered a vintage performance in Saturday night's Al Lamb's Dallas Honda Texas Half-Mile presented by Russ Brown Motorcycle Attorneys at Texas Motor Speedway in Fort Worth, Texas, to score his first victory of the 2019 American Flat Track season.
From the start, Mees found himself embroiled in a one-on-one shootout with his fellow Indian Wrecking Crewman, Briar Bauman (No. 14 Indian Motorcycle/Progressive Insurance FTR750), who also just happened to be the AFT Twins championship leader and arguably the rider best positioned to steal Mees' crown this season.
While Mees racked up a remarkable 20 total victories during his back-to-back title runs in '17 and '18, he came into the Texas Half-Mile in the midst of a seven-race winless streak. But as hungry as he was to finally end that drought, Bauman certainly made him work for it.
The two immediately broke free from the pack and traded the lead back and forth multiple times with a series of slick overtakes in which they squared one another up exiting Turn 4. Mees finally broke Bauman's challenge on lap 22 of 25. At that point, he eked out just enough of a gap to breathe a bit easier over the race's final circulations, claiming the checkered flag with a 1.316-second margin of victory.
The win marks Mees' 27th Half-Mile triumph, breaking a tie for second all-time with the legendary Will Davis.
When asked if he expects Saturday's win to reopen the floodgates, a measured Mees said, "That would be the goal -- that is the goal -- and we'd love to do that, but this year is tougher. The guys are better, and they've got their machines figured out better. I've got to dig down deeper.
"Last year, I basically got a good start, went by Briar when he was on the Kawasaki, and took off. This time, I had to wear the boy out. He rode so good. He was better than me in Turns 3 and 4 early in the race. I saw what he was doing and moved down to his line, and that allowed me to maintain a little bit of a gap."
Atlanta Short track winner Brandon Robinson (No. 44 Kennedy Racing/Armbruster Racing Indian FTR750) rode a relatively lonely ride to round out the podium in third.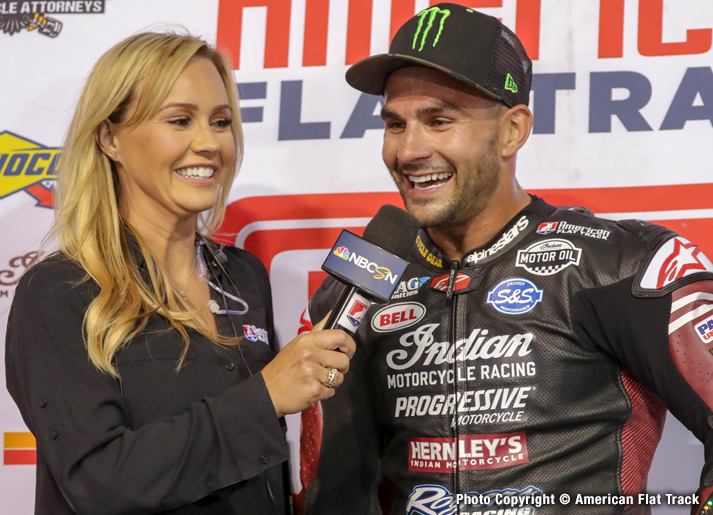 Round 3 | Texas Half-Mile | Results
1 ... Jared Mees
2 ... Briar Bauman
3 ... Brandon Robinson
4 ... Sammy Halbert
5 ... Larry Pegram

American Flat Track on Facebook • American Flat Track on Instagram
Jared Mees Racing on Facebook • Jared Mees Racing on Instagram