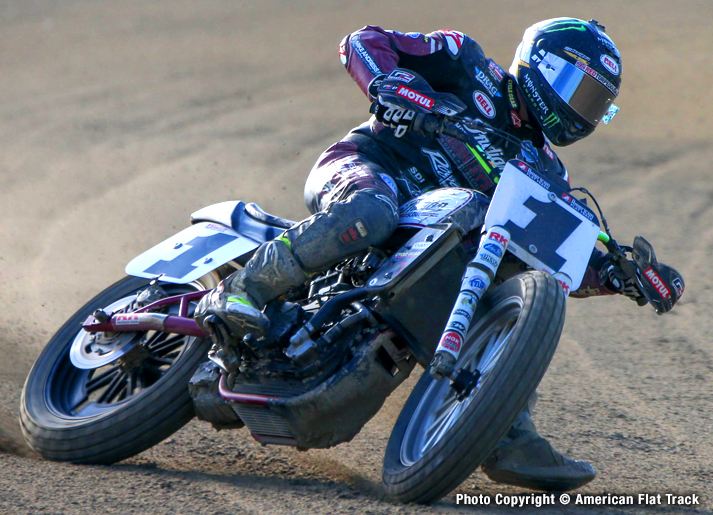 AMA Pro Racing Press Release (excerpts):
LIMA, Ohio (July 1, 2018) – Grand National Champion Jared Mees has racked up 18 Main Event victories during his historic run these past two American Flat Track seasons. Saturday's win at the Indian Motorcycle Lima Half-Mile, however, may just be the sweetest of all.
Mees rode like he had a point to prove. Last year's title triumph saw Mees finish on the podium in all but one AFT Twins presented by Vance & Hines Main Event. However, the "one" came in the race he wanted more than any other.
Serving as the race promoter of his home race on exactly the sort of demanding track Mees likes to point to as a measure of a rider's ability, he failed to even qualify for last year's Lima Half-Mile Main due to penalties incurred for jumping the start of his semi multiple times.
Being forced to swallow that bitter pill in 2017, Mees took full advantage of his rare opportunity for redemption at the Allen County Fairgrounds this time around. He bolted free from the start aboard his No. 1 Indian Motorcycle Rogers Racing SDI Scout FTR750 and left the pack to sort out the remainder of the positions in his roost around the pea-gravel cushion Half-Mile.
Things became considerably more interesting once the only rider to have beaten Mees in a straight fight all year – Jeffrey Carver Jr. (No. 23 Roof-Systems of Dallas/Indian of Metro Milwaukee Scout FTR750) – took over second place and put Mees in his sights. Carver successfully whittled away at the lead, slashing it from around two seconds all the way down to less than eight tenths just past half-distance.
Mees was ready with a response to Carver's charge, slicing through traffic just as Carver's desperate bid for a come-from-behind win eventually took its toll on his endurance. Mees not only blunted Carver's charge but regained his advantage to ultimately claim the checkered flag with a 2.738-second margin of victory.
After the race, Mees said, "Winning the Lima Half-Mile… this is the baddest race to win. This track is so demanding, and tonight it was really demanding. You just had no time to get off the throttle, and it got really physical with some ruts and bumps. I love winning at this racetrack – it's awesome."
Round 10 | Lima Half Mile | Results
1 ... Jared Mees
2 ... Jeffrey Carver Jr.
3 ... Henry Wiles
4 ... Briar Bauman
5 ... Brad Baker