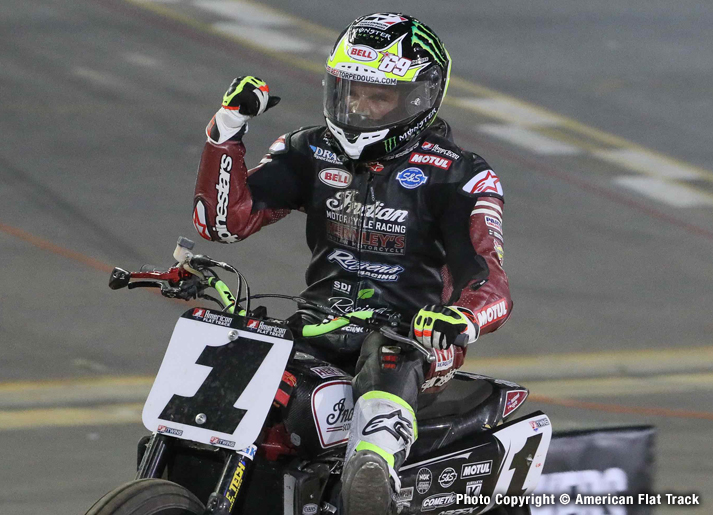 AMA Pro Racing Press Release (excerpts):
Woodstock, GA (April 8, 2018) – The action leading up to Saturday night's scheduled American Flat Track Main Event at the Harley-Davidson Atlanta Short Track presented by Hellbender Harley-Davidson pointed squarely to a wild, unpredictable affair with any of a dozen riders in with a realistic shot at the win.
Instead, Mother Nature swept through with a storm system before that anticipated battle could be waged, pushing the remainder of the racing activities back a day at Dixie Speedway. And when racing did resume on Sunday afternoon, it was reigning AFT Twins presented by Vance & Hines champion Jared Mees (No. 1 Indian Motorcycle Rogers Racing SDI Scout FTR750) who stormed through like a force of nature after appearing mortal the day before.
Mees mastered the tricky, slick conditions to secure his 32nd career premier-class victory in lopsided fashion. The champ broke free early and then piled it on from there as the race evolved. With his lead never seriously challenged, Mees eased up late and still took the checkered flag with nearly two seconds in hand.
And just like that, Mees has now opened his championship campaign with back-to-back victories at the Daytona TT and Atlanta Short Track for a second consecutive season. That does not bode well for the competition considering how last year turned out them.
"I got out front and just tried to put my laps together and ride smart," Mees said. "The track was very slippery and technical. I just kind of put it together. I was really worried about Kenny [Coolbeth] – he's really good in these conditions – but we got a good start and the motorcycle was working extremely well.
"The team won this for me this weekend, honestly. They worked so hard, and they deserve all the credit. Every time I came in, it was shock changes, engine combination changes, and exhaust pipes, offsets, and rear wheels. We just turned the motorcycle upside down to give me the feel I was looking for, and finally today... Honestly, raining out last night and coming back today, just to allow me to debrief and relax, was really good for me. Yesterday, it felt like we were behind the eight-ball every time we went out. Today was like a fresh start. It felt great."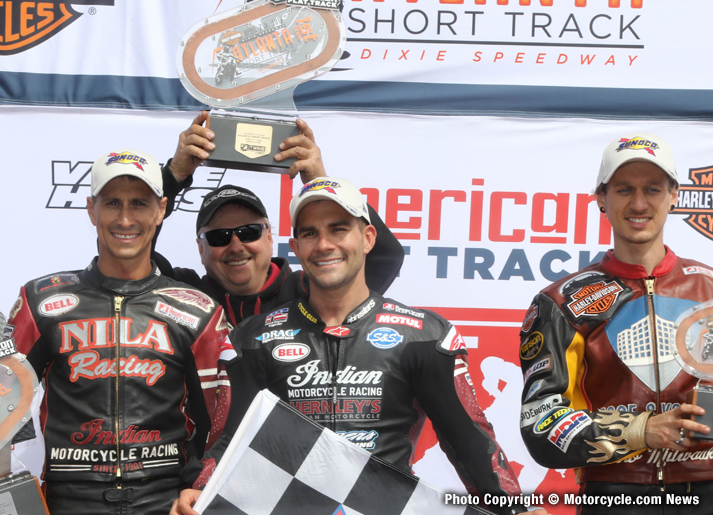 Round 2 | Atlanta Short Track | Results
1 ... Jared Mees
2 ... Kenny Coolbeth, Jr.
3 ... Jeffrey Carver Jr.
4 ... Jarod Vanderkooi
5 ... Henry Wiles