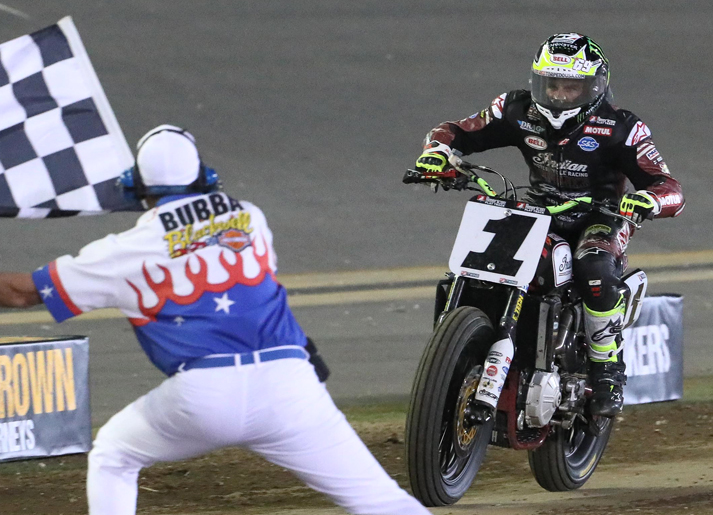 AMA Pro Racing Press Release (excerpts):
DAYTONA BEACH, Fla. (March 16, 2018) – The world's elite dirt track motorcycle racers entered the 2018 American Flat Track opener at Daytona International Speedway having spent practically every available moment for the past several months searching for answers after getting roundly trounced by defending Grand National Champion Jared Mees last year. One round into the 2018 AFT Twins presented by Vance & Hines season, they're still looking.
The target on Mees' back, along with the extra weight of the No.1 plate on his Indian Motorcycle Rogers Racing Sidi Scout FTR750, only appeared to spur the champ forward in Thursday night's Harley-Davidson TT presented by Russ Brown Motorcycle Attorneys at DAYTONA.
If anything, this year's bigger, better, and faster DAYTONA TT layout played even more surely into Mees' hands. He called upon an unparalleled combination of pace, determination and daring to force his way into the lead early and then fend off any challenge from there to immediately seize the early-season title advantage.
Mees came into contact with fellow Indian Wrecking Crewman Brad Baker (No. 6 Indian Motorcycle Racing backed by Allstate Scout FTR750) multiple times over the race's opening laps as he looked for a way into the lead as a group of five riders bunched up at the front. He ultimately made the decisive maneuver coming off the jump, jamming through as the two entered the switchback that immediately followed.
Mees was quickly followed through by MotoAmerica superstar JD Beach (No. 95 G&G Racing/Rickdiculous Racing/Team95 Yamaha FZ-07). Once into second, Beach showed off the skills that allowed him to reign supreme in December's Superprestigio Dirt Track, cutting into Mees' gap during the middle portions of the race. However, after the lead narrowed to around a half-second, Mees wicked it back up and safely powered home to the checkered flag.
"In the very beginning I had to get physical with Brad a couple times -- I had to get by," said Mees. "Over the jump I had a real good line, which allowed me to get aggressive. To come out and win the DAYTONA TT two years in a row is just huge.
"Big hats off to my crew and everyone that supports us. The last ten days have just been a lot of time and effort put into testing and getting prepared. I've got to thank Indian Motorcycle for all the support and backing. It's a phenomenal company to work with."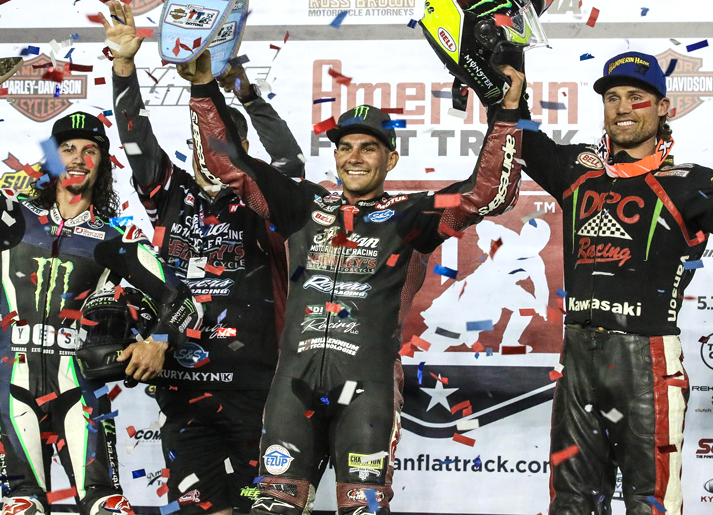 Round 1 | Daytona Beach TT | Results
1 ... Jared Mees
2 ... JD Beach
3 ... Henry Wiles
4 ... Briar Bauman
5 ... Brad Baker