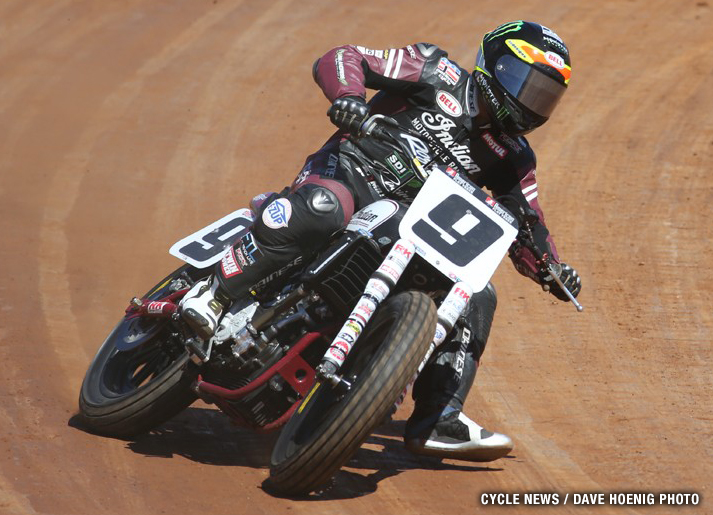 Reported by Cycle News (excerpts)
FORT WORTH, Tex. (September 24, 2017) – In a season utterly dominated by the juggernaut Indian Motorcycle works line-up spearheaded by newly crowned 2017 AFT Twins presented by Vanc & Hines champion Jared Mees (No. 9 Indian Motorcycle Rogers Racing Scout FTR750), there was still room for an underdog to serve up an upset at the penultimate round of the championship.
Privateer Jeffrey Carver Jr. took it to the factory stars and controlled the Lone Star Half-Mile presented by Indian Motorcycle from the front throughout en route to his first-career win on a Twin in American Flat Track's premier class.
In doing so -- and as a result of a late-season swap of equipment -- Carver simultaneously delivered fabled flat track marquee Harley-Davidson its first victory of the season when he took the checkered flag aboard the No. 23 Ben Evan's Racing/Carver's BBQ Harley-Davidson XR750.
Champion Mees was the only rider with the pace to even keep Carver honest on this night. He applied pressure from just over a second back throughout the majority of the race but was unable to force a pivotal mistake.
Mees' runner-up finish was his 16th podium finish in 17 races this season, including 15 of first or second. He is now well positioned to claim sole possession of the single-season podium record with just the finale remaining on the season's slate.
After the race, the champ said, "(Carver) was able to get a good start. He was able to put together three strong laps in the beginning, and then we just stalemated there for the whole race. I tried so hard to gain on him... I couldn't bridge the gap. He rode strong -- he really did. Hats off to him and his whole team. It's cool to see a kid like that come out here and... I'm not saying we didn't have him picked to win, but it's a little bit of a surprise. It was awesome."
Furthering the underdog theme of the evening were the last-lap heroics of Johnny Lewis (No. 10 Team Nila/John Wise Indian Scout FTR750). Having only climbed aboard his privateer Indian Scout FTR750 for the first time earlier in the day, Lewis tracked down factory Indian star and 2016 AFT Twins champion Bryan Smith (No. 1 Indian Motorcycle Racing backed by Allstate Scout FTR750) and overtook him on the final lap to steal away the final spot on the box.
"Not bad for a bike I jumped on for the first time today in practice," Lewis said. "It's been a while since I've been on the podium. I can't tell you how happy I am. It feels good."
Two-time 2017 AFT Twins race winner Briar Bauman (No. 14 Zanotti Racing Kawasaki Ninja 650) finished a couple tenths behind Smith to complete the Main Event's top five.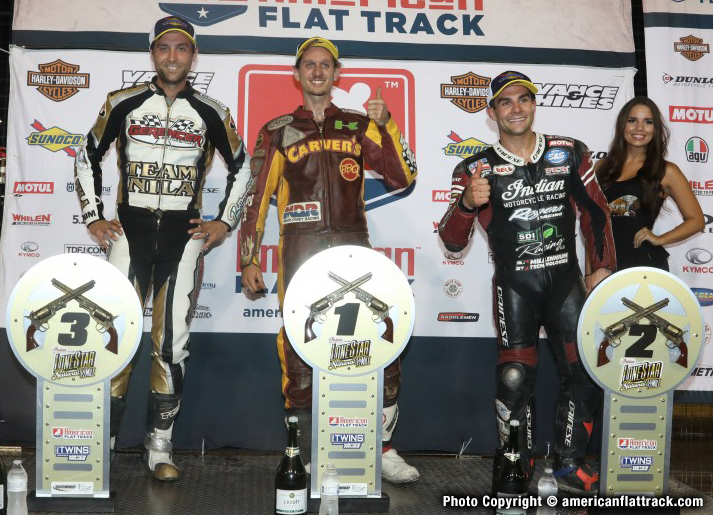 Round 17 | Lone Star Half-Mile | Results
1 ... Jeffrey Carver Jr.
2 ... Jared Mees
3 ... Johnny Lewis
4 ... Bryan Smith
5 ... Briar Bauman