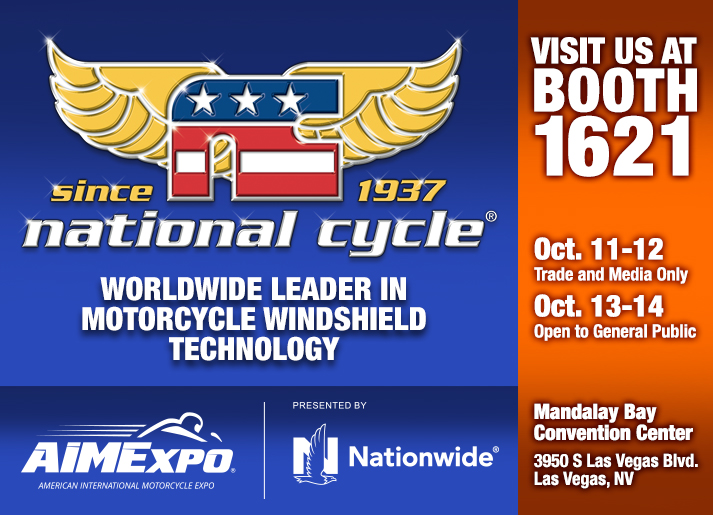 Powersports Enthusiasts: See Us at the 2018 AIMExpo in Las Vegas, NV, October 11-14!
National Cycle's owners and dedicated employees are motorcycle enthusiasts. Motorsports are the company's DNA. We measure the value of our products by how they enhance the owner's riding experience and on-road confidence. National Cycle's 80+ years of success is because of you -- our customers.
So please visit our booth, see our new products, and get our latest literature!
See the NEW VStream® Windscreens for BMW, Indian, Harley-Davidson, Honda, Kawasaki, KTM, Suzuki and Yamaha!
As North America's largest powersports expo, American International Motorcycle Expo presented by Nationwide offers enthusiasts the unique opportunity to see the newest 2018 models and products from more than 500 exhibitors, many of them making global, North American and public debuts. Taking this a step further, AIMExpo presented by Nationwide offers the exclusive opportunity to ride some of the latest street models to hit the market at AIMExpo Outdoors!
Mandalay Bay Convention Center
3950 S Las Vegas Blvd.
Las Vegas, NV 89119
AIMExpo Show Schedule
Need tickets for 2018 AIMExpo? Get them here.
Get all of National Cycle's show information on our Exhibitor Profile page.