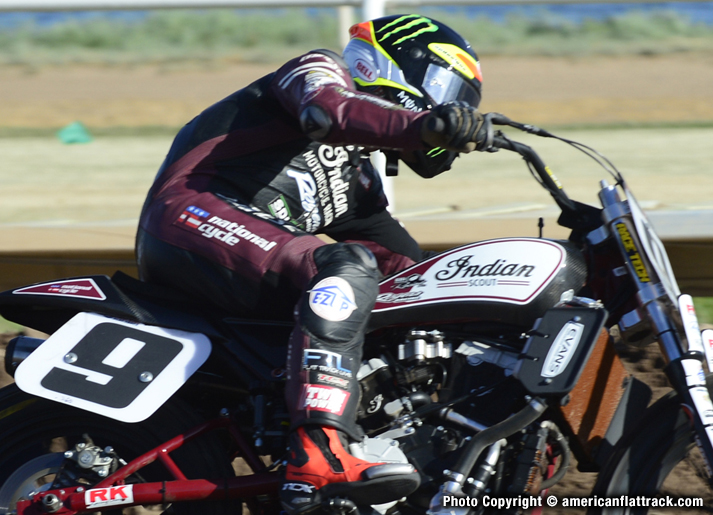 AMA Pro Racing Press Release (excerpts):
PEORIA, Ill. (August 13, 2017) – American Flat Track witnessed a coronation of sorts on Sunday, as the assembled fans and media joined in proclaiming Henry Wiles (No. 17 DPC Racing Kawasaki Ninja 650), "King Henry," as he extended his reign over the Peoria TT to a nearly unthinkable 13 victories in succession.
While Jared Mees (No. 9 Indian Motorcycle Rogers Racing Scout FTR750) was unable to finally vanquish heavy-favorite Wiles, he did continue to pile on his already-expansive championship lead with a runner-up finish.
Mees engaged in a tight scrap with Buffalo Chip TT winner Briar Bauman (No. 14 Zanotti Racing Kawasaki Ninja 650) until the pair encountered traffic. At that point, Mees called upon his experience and racecraft to slip free from Bauman on his way to a 13th podium finish in 14 races this season.
Mees will carry a 41-point advantage into the four-race homestretch with an eye on earning his fifth-career premier class championship.
"It was a pretty good ride for me, I guess," Mees said. "I just didn't have anything for Henry whatsoever… I felt Briar breathing down my neck early. I just made sure I got off Turn 4 smooth and good, and the Indian FTR750 pulled me strong down the straightaway."
Bauman's third place was his third podium finish of the season, adding onto his wins at the Buffalo Chip TT and Lima Half-Mile.
Bryan Smith (No. 1 Indian Motorcycle Racing backed by Allstate Scout FTR750) did well to minimize the damage Mees was able to do on Sunday by finishing a strong fourth at a venue where he's historically struggled.
The third "Wrecking Crew" member Brad Baker (No. 6 Indian Motorcycle Racing backed by Allstate Scout FTR750) completed the top five.
Round 14 | Peoria TT | Results
1 ... Henry Wiles
2 ... Jared Mees
3 ... Briar Bauman
4 ... Bryan Smith
5 ... Brad Baker