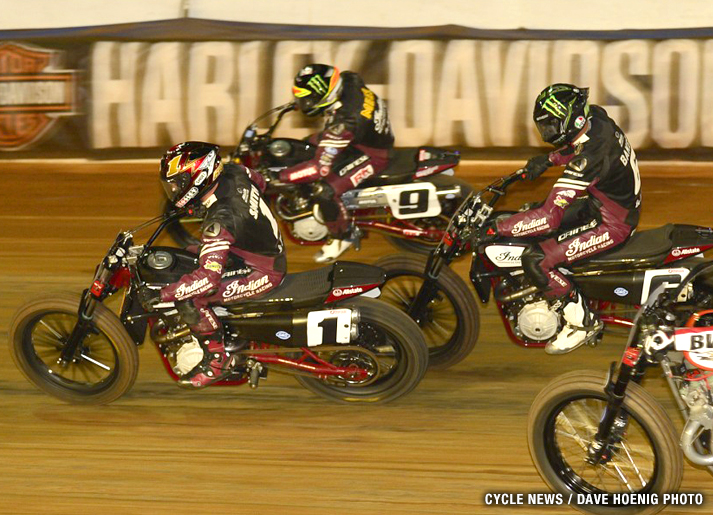 AMA Pro Racing Press Release (excerpts):
CHARLOTTE, N.C. (April 1, 2017) – Defending American Flat Track Grand National Champion Bryan Smith scored his first victory of the season in the AFT Twins class presented by Vance & Hines on Saturday evening at The Dirt Track at Charlotte Motor Speedway. It was a dominant win for Smith on the No. 1 Indian Motorcycle backed by Allstate Scout FTR750, beating fellow Indian Motorcycle rider Jared Mees on the No. 9 Indian Motorcycle Rogers Racing Indian Scout FTR750 by 3.769 seconds to put an end to his rival's winning streak going into the break.
"We didn't qualify fastest, but once we got racing, I felt comfortable," said Smith. "I feel like in any race if I can beat Jared (Mees), I can win the race, and if I beat him, I can win the championship. I've got to get back to doing it more often. I especially wanted to win today, because we've got some bragging rights going into the mini off-season before we get to the miles. Hopefully, we can pick up where we left off last year in the miles – winning."
Although Mees would have preferred to keep his momentum by adding another win to the ones he racked up at the Daytona TT and the Atlanta Short Track, at the end of the day, Mees is still ahead in the points chase, sitting eight points ahead of Smith. The evening also marked Indian Motorcycle's third consecutive 1-2 finish, which could have very well been another back-to-back podium sweep if Smith's teammate Brad Baker on the No. 6 Indian Scout FTR750 hadn't suffered the bad luck of a mechanical.
"You can't win them all, and I was glad to see Bryan (Smith) get the job done on the Indian Motorcycle," Mees said. "So far, Indian's won all three Grand Nationals. It's a shame for Brad (Baker), because I think we would have had an all-Indian podium again. Tonight I knew we were a tick off, so we made some changes to try to turn it around. I got a good start but had a bad first lap. When Bryan got up to the lead that kind of left it to Brad and I to dogfight for second. I just started clearing Brad when his bike went off, but by that time, Bryan was already 10 bikes ahead. I tried moving around the race track to catch up, but I was losing ground. The best guy won tonight, and it was Bryan."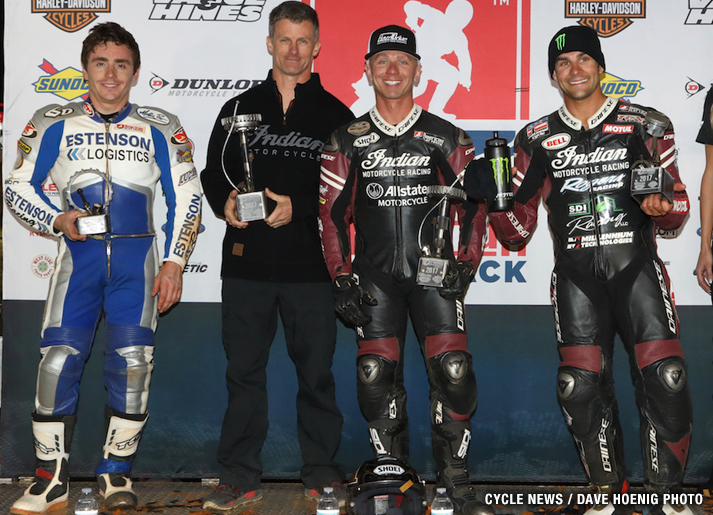 Round 3 | Charlotte Half-Mile | Results
1 ... Bryan Smith
2 ... Jared Mees
3 ... Sammy Halbert
4 ... Ryan Wells
5 ... Jeffrey Carver Jr.