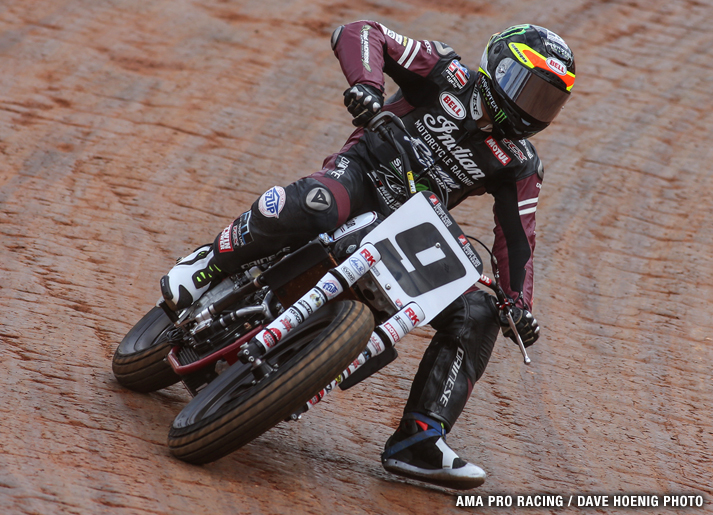 AMA Pro Racing Press Release (excerpts):
WOODSTOCK, Ga. (March 25, 2017) – One week after giving Indian Motorcycle its historic first victory in American Flat Track competition at Daytona International Speedway, Jared Mees made it two in a row Saturday evening with his win at the Atlanta Short Track presented by Indian Motorcycle. The three-time Grand National Champion was part of a podium sweep for the Indian "Wrecking Crew" in front of a near-capacity crowd at Dixie Speedway in Woodstock, Ga.
It was another fierce battle for top honors in the AFT Twins presented by Vance & Hines class, with Mees on the No. 9 Indian Motorcycle Rogers Racing Scout FTR750 locked in a back-and-forth battle with Sammy Halbert on the No. 69 Estenson Racing Harley-Davidson XR750. The pair made contact, resulting in Halbert ending up in the dirt on the front straight and bringing out a late-race red flag. When the race restarted, Mees pulled away in the ensuing five-lap shootout to win by 1.185 seconds over Indian Motorcycle Racing backed by Allstate teammates Brad Baker on the No. 6 Indian Scout FTR750 and Bryan Smith on the No.1 Indian Scout FTR750.
"Sammy led pretty much all the race before I started to come into play towards the end," said Mees, who scored his 18th career victory. "We just started slide-jobbing each other. He'd get underneath me, then I'd get back underneath him. He was trying to protect the lead coming down, and I was coming up where the start/finish line has an arc. We just got together and he ended up with the crappy end of the stick. That's racing when you're going with five laps remaining for a Grand National Championship win. It's hard."
Mees also recorded a personal milestone, scoring his first AFT Short Track victory to complete the elusive dirt track Grand Slam. Opening the year by winning the Harley-Davidson Daytona TT – his first TT triumph – Mees is now halfway to earning a dirt track Grand Slam in consecutive races, something which has never been done in the 64-year history of the sport. The next events on the AFT schedule are the Harley-Davidson Charlotte Half-Mile on Saturday, April 1, followed by the Law Tigers Arizona Mile presented by Indian Motorcycle in Phoenix on May 13.
For Baker, it was sweet redemption to take the number two spot on the podium after a rough Daytona.
"It was a great night. Definitely a lot of gratitude and a good feeling to come back from what happened to me last weekend," Baker said. "So it feels good, and it's a part of history too what we did tonight – a three-way Indian Motorcycle podium. So hats off to Jared (Mees) and Bryan (Smith) for riding really well, especially Jared. He finished his grand slam this weekend, so that was pretty cool for him."
Smith went into Atlanta hoping for a win, but in the end the defending champ was happy to leave the first two rounds second in the points as the series heads to longer circuits.
"I wanted to go the other way on the podium and get a win, but to be right there in the points is good," Smith said. "The ovals are getting bigger and I like the bigger ovals."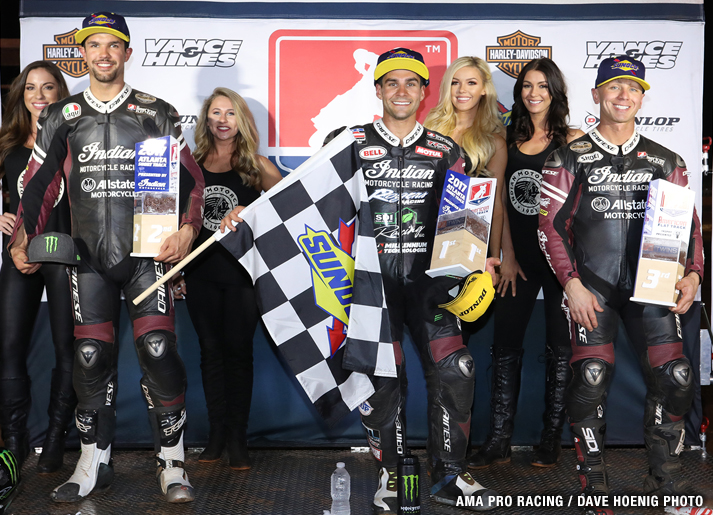 Round 2 | Atlanta Short Track | Results
1 ... Jared Mees
2 ... Brad Baker
3 ... Bryan Smith
4 ... Briar Bauman
5 ... Jarod Vanderkooi